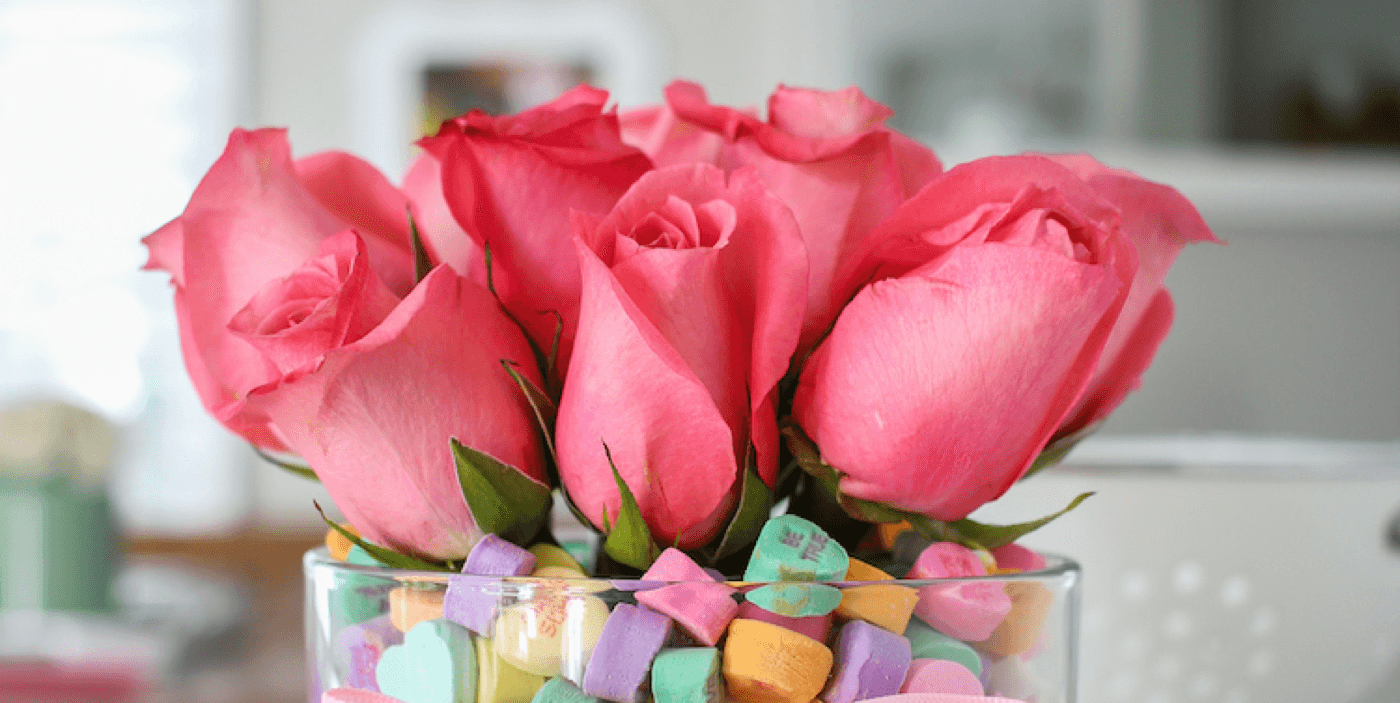 Valentine's Day is a day to celebrate love. One of the coolest things about this day is it's a great occasion to decorate using craft ideas, giving you an opportunity to show off your personality in your new home. Many of the crafts ideal for Valentine's Day home decorating are also perfect for parties. 
Button Heart Picture
If you have a lot of buttons lying around, the buttons and burlap can be fashioned into a lovely heart picture. Buttons that are mostly pink or red will create the best look for this whimsical design. 
Candy Heart Bouquet
This cute idea for cut roses has a treat hidden under a layer of conversation hearts. By placing a smaller, water-filled vase for the roses inside a larger vase of candy hearts, it'll look as though the roses are blooming from the bowl of candy.

Blossoming Letter Monogram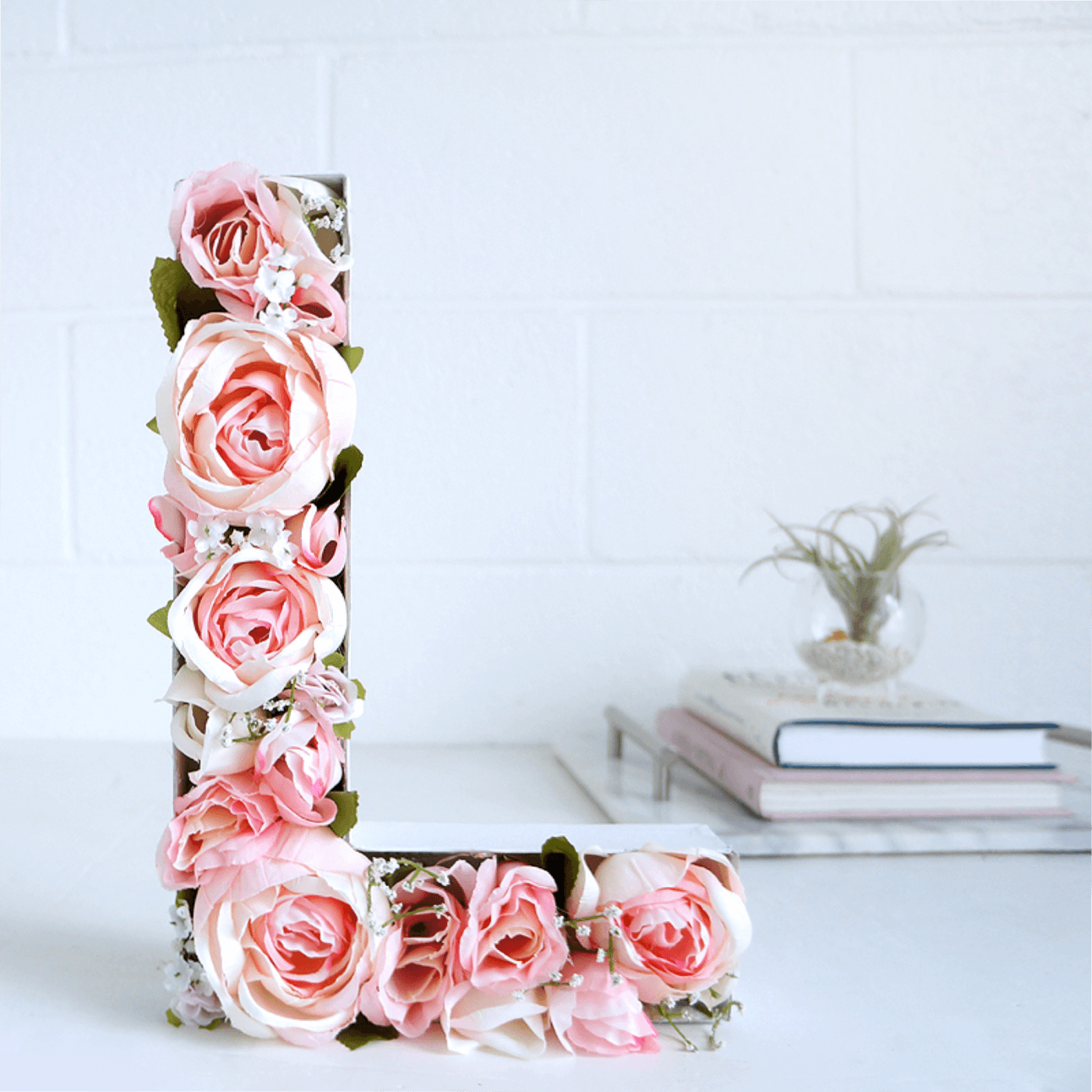 One great way to personalize your space is with a monogram. When it's made from a flower-filled design, it will stand out even more as a conversation piece.
Floral Heart Wreaths
Floral wreaths provide a surprisingly elegant look for your home, whether you're having company on that day or just enjoying a quiet night at home. These heart-shaped wreaths use artificial flowers that provide a beautiful burst of colour for an inviting look in your entrance (and won't dry out!). 
Coffee Filter Wreaths
Coffee filters dyed pink are another great choice to create a heart-shaped wreath in honour of Valentine's Day. One of the most exciting things about this option is the design's adaptability.
Garland With Heart Cards
If you have a spare deck of cards sitting around, there's a great use for them that involves using the heart cards. When used together with some pink and red ribbon, you have the makings of a cool garland of hearts. 
Glitter Votive Candles
Mason jars have another use besides just being used for food storage. With some glitter and a few other items, you can easily convert these jars into sparkly candles.

Heart Backdrop
A backdrop for your kitchen or dining area is a nice visual treat when you're enjoying dinner on Valentine's Day. The heart backdrop design is simple, too, only requiring chicken wire and red paper napkins.
Floating Hearts
A backdrop made of balloons is a fun way to greet guests or welcome your sweetie home on Valentine's Day. The mixture of pink and red balloons arranged into a heart shape provides a cute prop for photos.
Heart Strings

String has always been convenient for creating works of art that are unique, as well as easy to assemble. A heart made of string is easy to create with red string and nails arranged in a heart shape on a board.
Heart-Shaped Sweater Pillows
If you have old clothes you feel like doing something creative with, it's really easy to repurpose sweaters into cute pillows. They not only look great but will have a soft feel. Valentine's Day-themed throw pillows are always a nice addition to your living room or den, where you can cuddle up on the couch to watch a movie with your honey.
Hot chocolate is always a nice treat on a nippy winter day, and adding little extras like chocolate kisses and cinnamon hearts sweetens things even further. Put everything into a little bar area, neatly arranged in a wire or other open basket as a tasty surprise. Little decorative touches as well can give your kitchen a custom look.
Scrabble-Style Love Coasters
Coasters that spell LOVE and look just like oversized Scrabble tiles are a fun way to protect your favourite furniture (and maybe even get a double letter score!). 
Tree of Hearts

A mini tree of hearts is easy to piece together using some twigs spray-painted white and arranged in a vase or pitcher. You can cut out hearts from red and pink construction paper to add a colourful flair. 
Yarn-Wrapped Valentine's Day Trees
Styrofoam cones and yarn provide a foundation for these decorative trees you can put around your home. Once assembled, consider decking them out with beads and other baubles of your choice. 
You don't need to go anywhere fancy for Valentine's Day. With a little creativity, you can turn your home into a sweet-looking space where you can stay in and enjoy each other's company. And that's what counts.