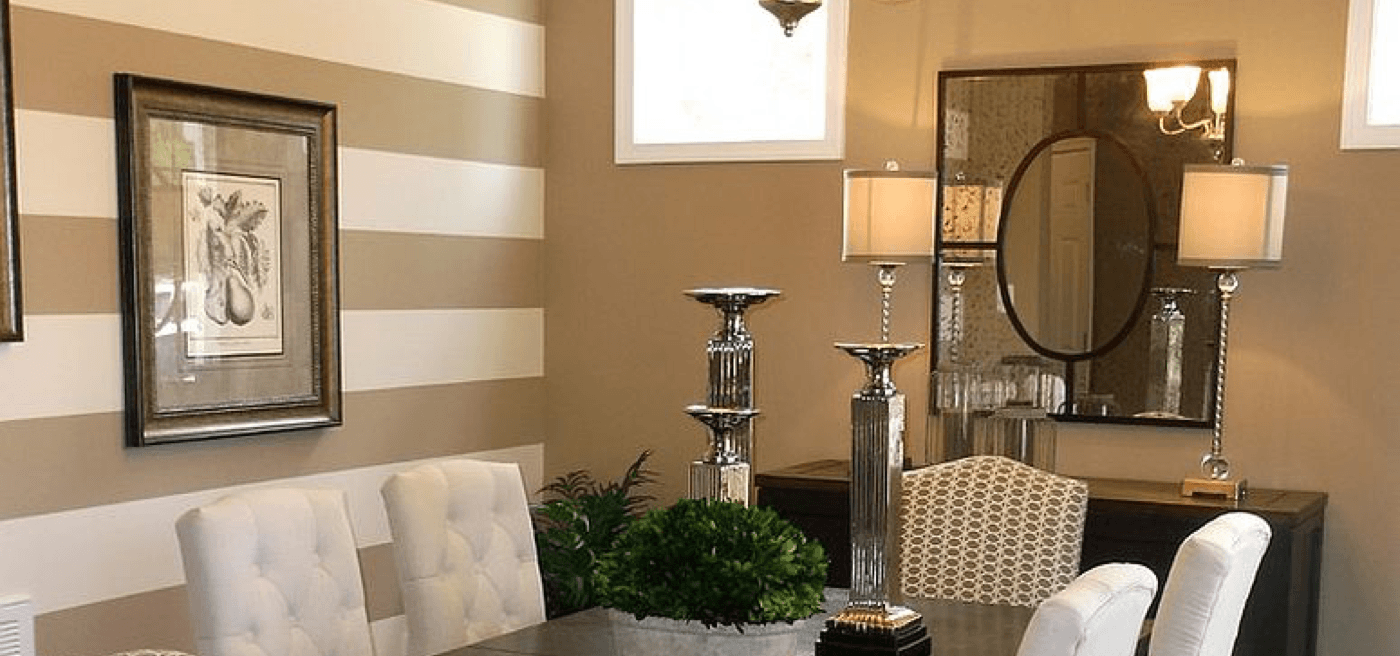 A high-end look is something that many are going for when decorating their dining rooms. Even when you enjoy the benefits of a custom home, adding extra touches that express your personal creativity is always nice. You can add as many or as few touches as you would like to give your home that special look that everyone will enjoy.
1. Brighten Your Shade
You might be amazed at the difference a decorative lampshade can make in changing your dining room's overall look. A little bit of fabric or even a colourful ribbon can add that extra bit of spark. A nice part of this decorating idea is that it takes almost no time to complete so you can enjoy this new look at your next meal very easily.
2. Stripe Up Your Dining Area
Even though an open floor plan seems to minimize the dining area's distinctiveness, there is no reason you need to avoid making this area stand out. An eye-catching accent wall with bold stripes and matching retro furniture will immediately draw everyone's attention. You could also opt for a mixture of contrasting bright and neutral colours, which allows you to do something different that still boasts a classic look.
3. Add Industrial Lighting
Industrial lighting often includes an array of fixtures that suit virtually every decorating style. You can have a look that is both streamlined and has nice touches from the past. You can add some extra balance to this look by using natural furniture elements, such as wicker seating and light wood tables that help keep the room looking bright. 
4. Put One of Your Collections on Display
The dining room is a perfect place to display items like decorative plates and bottles. A cabinet or sideboard would work well for displaying such collections in a very visible place. Another alternative, too, is putting a bookcase in this room and arranging a few smaller collectables on the shelves.

5. Decorate Your Ceiling
Ceilings are often described as being fifth walls, so they shouldn't be overlooked. This is very true of dining room ceilings in particular. Several ceiling options from wallpaper to tiles will provide a bit of extra colour and texture. If you want an ambitious DIY project, consider doing gold or silver leaf that will give you that extra sense of luxury. 
6. Mix and Match Your Seating
Using a variety of chairs and seats around your table will save you money and give your dining area an unusual look. Feel free to experiment with different styles and colours. If you prefer, you may also want to use a couple of small benches or loveseats in a corner to accommodate those who aren't joining everyone else at the table. 
7. Combine Complimentary Patterns
Mixing up patterns that complement each other will make a nice statement in your dining room area. You can also play with paint palettes. Neutral colours often work best because the

differences aren't as obvious as they would be with brighter colours. The best way to pull off this look is to use one bolder pattern as the foundation, then use more subtle designs throughout the room. 
8. Add Some Touches of Nature
Succulents are nice to display in your dining room because they add a touch of nature and are also low-maintenance, requiring modest watering and fertilizing. A collection of several in a planter makes a nice centrepiece that everyone will admire. You could also choose a sunny location right next to a window, with either option giving you the opportunity to enjoy greenery throughout the winter. 
9. Give a Chandelier a Try
Your lighting choices have a huge impact on the atmosphere of a room. Chandeliers aren't just for sprawling mansions, there's a wide range of styles to suit modern homes as well. Smaller versions of crystal chandeliers give you a nice, glamorous look. Modern chandeliers in pendant styles are also good to use.
Unique trends that play to your home's special features will give your dining area that extra bit of flourish to delight family and guests alike. This is an area of your home you'll use a lot anyway, so why not let your imagination take flight?
For more customized spaces throughout your home, browse through our series of design trends for a custom look in the kitchen, living room, and bathroom.